Workshop – Edelserpentin grinding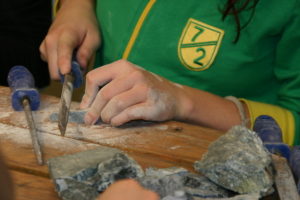 You will learn how to work with Edelserpentin at this workshop. Of course there will be an expert to explain you, how to edit your own Edelserpentin. You will create an own piece of jewelry or a hand charmer from the raw material Edelserpentin just in a few steps. You can be as creative as you like.
One piece Edelserpentin and all materials, which you need, are provided.
The workshop is only possible combined with a visit of the museum and with prior reservation.
The workshop with prior reservation for groups of 10 or more persons is available the whole year. The workshop is in german only..
Our summer-workshop fixed dates you can find here.
Workshop – Video