The Edelserpentin-workshop in fifth generation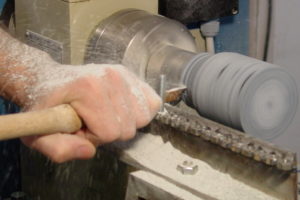 We would like to give you an insight into our work environment by visiting the museum of the past and guiding you through the workshop of today.
The craftsmanship of the working with Edelserpentin was passed on from generation to generation by our ancestors. Today, Niko Potsch stands behind the lathe and introduces the museum visitors the art of the Edelserpentin editing.
Guidet tours against pre-registration for groups of 10 or more.