"Glück Auf" (ger.) in the mine
Enter the in-ground part of the Felsenmuseum and you will be amazed by all of the interesting facts about Edelserpentin, about the history of mining in Bernstein and also it's surroundings and much more. There was already active copper and iron-disulphide mining in the Middle Age.
The different mining methods, how Edelserpentin was won in the past and how it is won today, will be displayed with the help of lifelike models. To salvage 1 m³ of Edelserpentin, you need to win 10.000 m³ of "general Serpentin".
Glass cases, which are built into the rock, present you rare minerals and precious stones from Austrian mountains. The special eye-catcher is an extraordinary beautiful mountain crystal cave, which was found on the "Hohe Sonnblick" and reassembled in the Felsenmuseum.
In the Museum there are minerals, which are glowing in fascinating colours. The mysterious luminescence is created by ultraviolet light, when these Minerals are illuminated in a completely dark black room.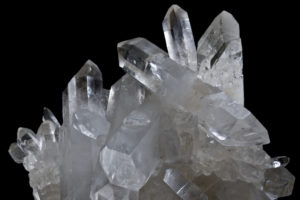 In the treasury of the museum you can see extraordinary minerals, crystals and precious stones from the private collection.
The roofed open-air part from the museum is dedicated to the antimony-ore mining in the town of Schlaining, which was closed in 1991. The mining was stopped because of lacking appearance of antimony-ore. You will see many historic machines and tools, which have been on duty till the end. The original elevator used at the Mathilda-mine can be operated by pressing the lever.