Edelserpentin – the green treasure from Bernstein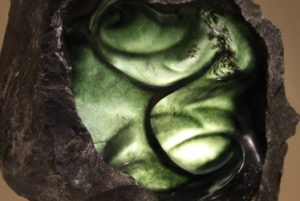 The town Bernstein is so famous because of Edelserpentin, a green shimmering semi-precious stone. The appearance is similar to the Chinese jade, but Edelserpentin is not related to it. Edelserpentin is found only in Bernstein. It is very popular for jewellery or artworks because of its variety of green shades.
The name of Edelserpentin originates from the Latin word serpens, which means snake. Edelserpentin, which is a magnesium silicate and originates from volcanic rock, is found in ledges in "General Serpentin". Nowadays there must be won more than 10.000 m³ of general Serpentin, to win 1 m³ of the rare, translucent Edelserpentin. Well-known mineralogists think, that the appearance of Edelserpentin in the Southern Burgenland is a "geologic miracle".
The unique material is won in the stone pit and is selected from us. A variety of unique Edelserpentin items are created in our art-workshop. In our art workshop, with a great deal of craftsmanship, cutting, chiselling, turning and grinding, a variety of fine specimens are created. Only through the polishing of the noble peppers, the bright to dark green colors and its different structures appear.
Experts from the field of crystal healing believe in the comforting and balancing effect of Edelserpentin, which can contribute to your wellbeing. It is said, that Edelserpentin also protects the heart, it fights for example heart arrhythmia or cardiac fibrillation.
Edelserpentin
Chem.:
Mg6[(OH)8Si4O10]
Hardness:
2-2,5
Color:
light to dark green, translucent
spec. Weight:
2,5-2,7
Line:
grey
Serpentin (general Serpentin)
Chem.:
Mg6[(OH)8Si4O10]
Hardness:
3-4
Color:
light to dark green, opaque
spec. Weight:
2,5-2,7
Line:
grey